COREtec Plus Flooring Review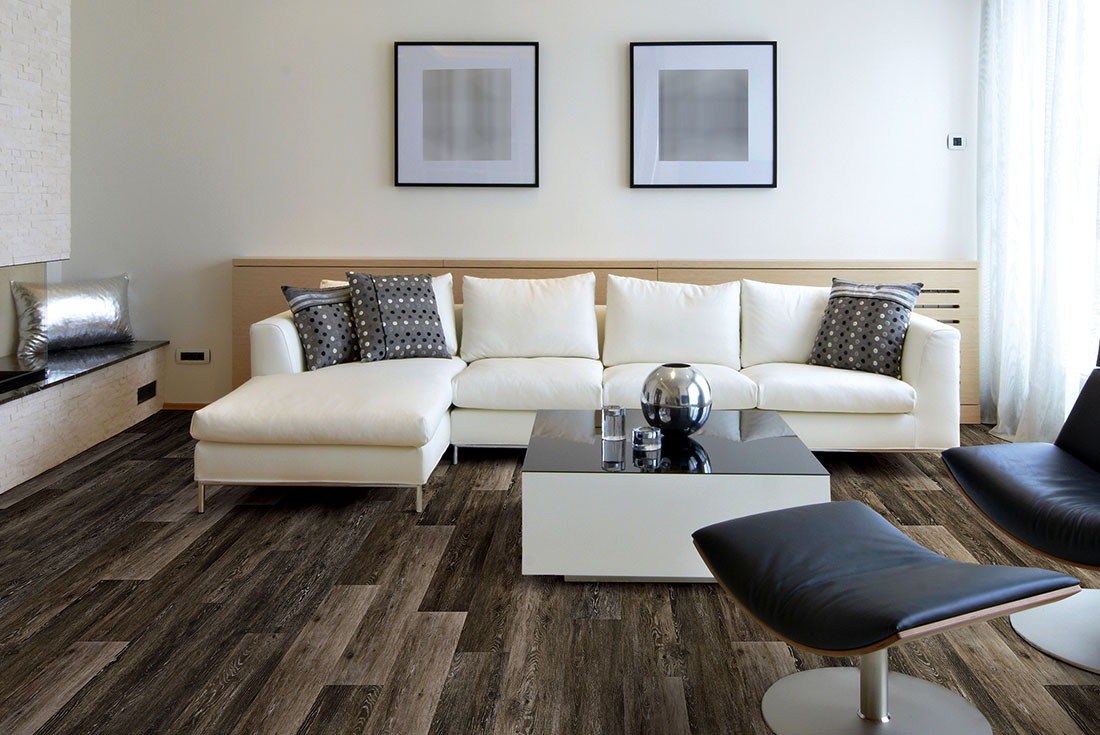 We've received a number of emails and comments about the COREtec line of engineered LVT plank and tile flooring, so in response here's our in-depth review of the COREtec product line up
The COREtec Plus flooring lineup is produced overseas and distributed by a company called USFloors. USFloors is based in Dalton, Georgia; the company was established in 2001 primarily importing and marketing cork and bamboo flooring.
Today USFloors purchases from facilities in Shanghai, China, and offer a large range of flooring products for both commercial and residential use including cork, strand woven bamboo, FSC-certified hardwoods, and cork underlayments. This lineup also included their most popular product offerings their USFloors COREtec Plus luxury vinyl flooring
COREtec Luxury Vinyl Tiles and Planks
There are currently seven lines in the COREtec Plus flooring lineup, each featuring a specific look or style, but all of them share the same construction. Let us take a look at their specifications.
It's wear layer consists of a polyurethane combined with ceramic beads. It is good but not as tough as a wear layer of aluminum oxide like that found on its rival Mannington Adura Max. On COREtec Plus it is at least 0.5 mm/20 mil which is rated for commercial use protects the durable and resilient luxury vinyl top layer. This layer sits on the extruded waterproof stable core layer made of recycled wood, bamboo dust, limestone and virgin PVC; and the final layer that sits against the subfloor is an integrated cork underlayment which works both as additional soundproofing and is resistant to mold and mildew.
All COREtec products can be installed as a floating floor but should always be installed with the direct glue-down method if heavy furnishings or loads are going to be used on the floor. COREtec can also be installed over radiant heating.
If installed following the instructions and recommendations have been followed carefully, the robust 4-layer construction will result in a great looking, durable floor that should last a long time. For residential use USFloors offer either Lifetime Limited or 25 year Limited warranties on their COREtec products.
Rest assured with this product that it is safe for you and your family. All COREtec products have achieved the Green Guard Gold Certification for low chemical emissions; this means COREtec is one of the safest LVT products currently on the market.
COREtec Products: A Detailed Look
This is an tasteful line of traditional-styled wood-look LVT planks, sized (5" x 48" x 8mm). This line currently offers a dozen colors featuring various wood grains. The wood grain looks this line offers include oak, pine, walnut, maple and hickory. These wood species offer unique aesthetics that rang from warm yellows to gray-ish tones. We particularly like the looks of the Gold Coast Acacia with features beautiful honey tones and strong, grain details.
This is a slightly wider planks in this product line (dimensions 7.125" x 48" x 8mm). It has a more distressed, industrial look and urban color tones. Featured colors include beiges, coffee tones and several interesting grays. There are twelve colors in call, mainly oak and pine species. We think the burnt, charcoal tones of the Hudson valley Oak are particularly attractive.
This rather chic line of rectangular stone-look tiles (12" x 24" x 8mm or 18.5" x 24" x 8mm). They give all the classy looks of real stone tile with a warmer, softer feel underfoot! COREtec floors can be installed in wet areas, as long as you follow their recommendation in properly preparing the subfloor, so these are a good option for bathrooms. The tile line comes in eleven colors and several stone styles including slate, travertine and marble stone. They also offer three alternative looks: Aged Copper, Petrified Forest and Weathered Concrete for a more modern look and feel.
COREtec Plus XL Long Plank

This line is substantially larger at (9" x 72" x 8.mm). This is the widest and longest wood-look plank line in the COREtec range with a strong range of statement colors. The line features mostly oak wood-look; and has fifteen different colors in the line. There is something for every décor style, ranging from deep gray to whitewash.
The E stands for Enhanced! Plank sizes are (8.98″ x 72.05″ x 8.0 mm). This is an addition to the popular COREtec Plus XL line. The XLE line offers 18 beautiful colors and with a highly embossed grain pattern. This line has the 4 sided enhanced beveled edges for an enhanced look and feel of real hardwood.
In this line the HD stands for HI –DEF visual and feel! The most noticeable change here is with the Embossed In Register (E.I.R.) technology along with a 4 side painted micro bevel edge used in making the HD product line gives this a very realistic visual. We think there are other similarly impressive products on the market, but for sure the HD line is the most detailed of the COREtec planks. Sized of the planks are (7″ x 72″ x 8.5 mm) and available in fifteen colors.
This is an interesting line, consisting of multi-toned and multi-width planks (5″ x 36″ x 8 mm, 7″ x 72″ x 8 mm, and 9″ x 72″ x 8 mm) and tiles the Design line gives you more room to fully customize your floor. Currently available in ten colors – seven wood-look and thee stone-look – the overall multi-toned effect may not be to everyone's tastes. The multi width sizes are found in the colors 7 of the 10 colors and even in the tile sizes. Planks can range in sizes of 5", 7", 9" widths and various lengths to further enhance the real wood look.
To finish off your COREtec flooring project there is also a good range of moldings to match each style of floor. The moldings are 94" long and are available in Quarter Round, T-Mold, Reducer, Baby Threshold, Stair Cap and Stair Nose.
All images courtesy of www.usfloorsllc.com
We think that COREtec Plus line is a quality vinyl tile brand and worth your consideration. Multiple reviewers have stated that it's surface wear layer is not as durable as its rival Manningtion's Adura Max and Adura Prime. That aside, COREtec Plus has reviews on several prominent flooring and renovation websites that suggest customers have been happy with the look and feel of their flooring. Those customers that have had a negative experience with the COREtec Plus products have also agreed with the softer ware layer and that the product might not have been installed properly. In fact, as with many flooring products, it is highly recommended that you work with a trusted flooring installer.
If you have any COREtec flooring reviews of your own that you would like to share please leave them in the comments section below.
Thanks for reading!